Welcome to St. Thomas More Parish
Our mission is to become the real presence of Christ through prayer, education, worship and service
"Lead Me Lord, Send Me"
Fr. Stephen Okumu
Pastor

Weekend Masses
Saturday 5 PM
Sunday 8:30 AM
Sunday 10:30 AM

Reconciliation
Saturday 3:30-4:30 PM
or by appointment

Weekday Masses
Tuesday 9 AM
Wednesday 9 AM(Mid June-Aug)
Wednesday 8:30 AM(Sept.-Mid June)
Thursday 9 AM
Friday 9 AM

Parish Office Hours
Monday-Thursday 9 AM-5:00 PM
Friday 9 AM-1:00 PM
| | | | | | |
| --- | --- | --- | --- | --- | --- |
| | | | | | |
| | | | | | |
Lent begins on Ash Wednesday

Ash Wednesday is one of the most popular and important holy days in the liturgical calendar. Ash Wednesday opens Lent, a season of fasting and prayer.
Ash Wednesday takes place 46 days before Easter Sunday, and is chiefly observed by Catholics, although many other Christians observe it too.
Ash Wednesday comes from the ancient Jewish tradition of penance and fasting. The practice includes the wearing of ashes on the head. The ashes symbolize the dust from which God made us. As the priest applies the ashes to a person's forehead, he speaks the words: "Remember that you are dust, and to dust you shall return."
The Ashes
The ashes are made from the blessed palms used in the Palm Sunday celebration of the previous year. The ashes are christened with Holy Water and are scented by exposure to incense. While the ashes symbolize penance and contrition, they are also a reminder that God is gracious and merciful to those who call on Him with repentant hearts. His Divine mercy is of utmost importance during the season of Lent, and the Church calls on us to seek that mercy during the entire Lenten season with reflection, prayer and penance.
CELEBRATE NATIONAL MARRIAGE WEEK: FEBRUARY 7-14, 2018
SAYING "I DO": WHAT HAPPENS AT A CATHOLIC WEDDING
ABOUT CATHOLIC MARRIAGE
The Vocation Of Marriage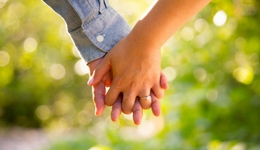 "All Christians in whatever state or walk of life are called to the fullness
of Christian life and to the perfection of charity."
When the Catholic Church teaches that marriage is a Christian vocation it is saying that the couple's relationship is more than simply their choice to enter a union which is a social and legal institution. In addition to these things, marriage involves a call from God and a response from two people who promise to build, with the help of divine grace, a lifelong, intimate and sacramental partnership of love and life. In Amoris Laetitia, Pope Francis writes:
Marriage is a vocation, inasmuch as it is a response to a specific call to experience conjugal love as an imperfect sign of the love between Christ and the Church. Consequently, the decision to marry and to have a family ought to be the fruit of a process of vocational discernment (no. 72).
The Second Vatican Council teaches that "all Christians in whatever state or walk of life are called to the fullness of Christian life and to the perfection of charity" (Constitution on the Church, n. 40). The call to marriage is a particular way of living the universal call to holiness given to every Christian in the Sacrament of Baptism. The calls to priesthood or to the vowed religious life are other Christian vocations (see St. John Paul II, Familiaris Consortio, no. 11). Along with marriage, all of them equally though in different ways, are a response to the Lord who says, "Follow me."
The call to love is "the fundamental and innate vocation of every human being." In the vocation of marriage – something which "is written in the very nature of man and woman," we see that "the love of husband and wife becomes an image of the absolute and unfailing love with which God loves" (Catechism of the Catholic Church, nos. 1603 and 1604).
A vocation is a personal call. It is offered freely and must be accepted freely. Attraction to a certain way of life or to a specific person can be a good sign of being called. Most often a person comes to recognize and accept a vocation gradually. This process, sometimes called discernment, is an opportunity for growth. It can be helped by prayer and guidance from trusted mentors, friends and family.
However, what begins as attraction must deepen into conviction and commitment. Those who are called to the married life should be ready to learn what their vocation means and to acquire the virtues and skills needed for a happy and holy marriage.
The vocation to marriage is a call to a life of holiness and service within the couple's own relationship and in their family. As a particular way of following the Lord, this vocation also challenges a couple to live their marriage in a way that expresses God's truth and love in the world.
http://www.foryourmarriage.org/the-vocation-of-marriage/
Making a financial donation
to St. Thomas More
is now quick and easy
with our new on-line
donation form.
Please consider making
a donation today.
Upcoming Events
CATHOLIC WEB LINKS
www.marriageuniqueforareason.org
www.21stcenturycatholicevangelization.org
Washington State Catholic Conference
North West Immigrants Rights Project
United States Conference of Catholic Bishops
Catholic Refugee and Immigration Services
Fr. Jim Northrop
St. Thomas More Relics on Display
To donate for Hurricane Harvey:
https://support.crs.org/donate/help-where-its-needed-most?
Funerals
2017 Parish Annual Report is here! Click on the link to see what's going on in our parish.